W400 IP67 Waterproof Kid GPS Watch Tracker GPS+WIFI+LBS
W400 is triband GPS watch: LBS + WIFI + GPS
Our W400 customized to 12 Hours Time Format with AM/PM (only sold by skhong/TABTAB).
W400 is IP67 water resistance, short time shower no problem but we don't suggest customer take it to the shower because water resistance is not permanent, the properties may degraded by daily using.
Kidnapping happens everyday around the world, parents could not accompany around their kids all the time, more and more people star to concern the kids' safety. Kids's daily activities and historical routes are the most concerning issue.
GPS tech now is common used in daily life even in a watch.We choose a waterproof GPS kids watch W400, let start to know more about it.
For outlook, the difference you can find out is the charging. W400 use Magnetic charger, there have four points on the back side of the watch and charging by special tool which contain in the gift-box. The other one is the SIM slot need to use screwdriver to open, it's design for waterproof.
1.Voice monitoring: when kids in emergency but could not make action, parents can through silent call to monitor but the watch user won't know.It's the greatest guarantee of child's safety in emergency.
2.Touch make friend:Touch make friends: With 2 watches support make multi friends (or 2 watches support make single friend)and have same time and connect the network, get touch the screen then both watch will add each other.Two watches can send the voice message to each other,bring more funny to kids.
3.Class mode: also named No disturbing time, user can set three periods, all incall will be shielded during three periods, this function is suitable for kids on class, keep there mind in class.Class mode only works from Monday to Friday, weekends are excluded.
4.I think the most outstanding feature is the IP67 waterproof. Kids always keep curiosity and active. W400 is suitable for daily waterproof like kids wash hand, get wet in the rain, even short time swimming in the pool (not recommend), but we not advice kids wear into water for a long time. When put into water please confirm the SIM slot lock tightly.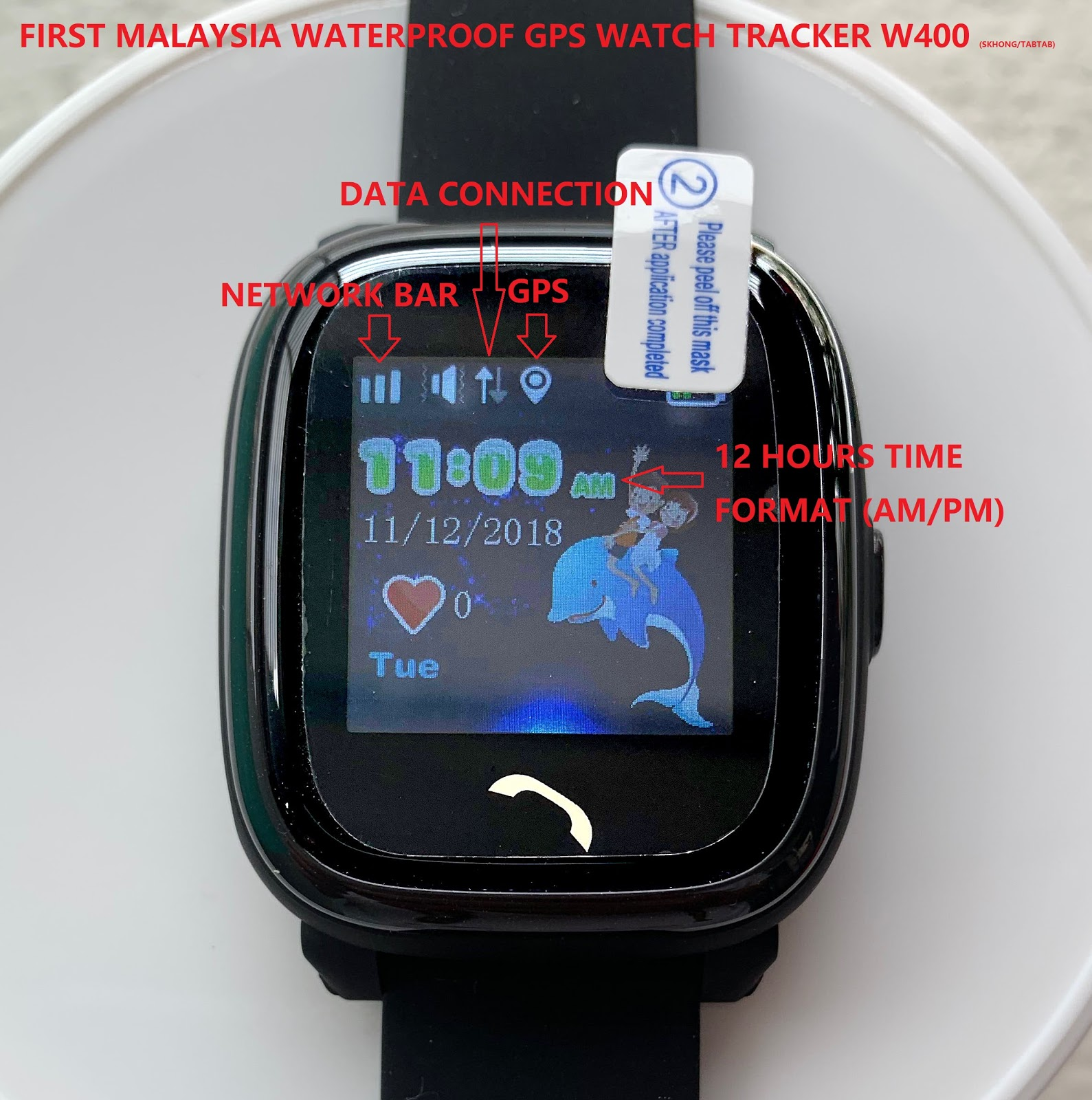 FUNCTIONS:

Waterproof: IP67 for daily waterproof, underwater 0.5m for 10-20 mins.
Chatting : Enjoy chatting by voice any time any where, click records to check again.
Ultra-low power consumption: Ultra-high integration; Adopt 3 modes locations(GPS, LBS, WIFI,).
New Dynamic UI: more vivid, directly touch screen to operate some functions
GEO-fence : On the map of the APP to set up the child's activity area, 200M-2000M,once the child out of the area will trigger the alarm and notify you through the app.
Real-time positioning: GPS+ LBS+AGPS positioning .
3 SOS numbers : There have 3 SOS numbers can be set in APP, press the SOS button for 3 seconds, user can call and send alarm messages to the phone number.
Low power alarm: Power less than 20%, the GPS watch can send the alarm information on APP and send the message to the SOS number.
Do not disturbing time: Parents can set 3 class times in the APP to shield the call,only SOS number can be dial, prevent the children play the watch in class.
Alimentary grade silicone gel. Perfectly safe for your kid, toxin free cooking quality (has been certified).
Voice monitoring: Once the phone number confirmed, watch will call the number automatically while user don't know.
Phone book: can connect to 10 family members.
Other featured functions: 3 alarms can be set on APP / Healthy recording / low battery alarm / history track record & playback / low power alarm/ APP Support IOS & Android


SPECIFICATIONS:

Screen: 1.22 inches color IPS touch screen

SIM card : Micro SIM card

Battery: Gel polymer 420 mAh, Standby 100 hours

Dimension : 46*40*15.3 mm

Solution : MTK 2503D

CPU: MTK 2503D

Color: Black, Pink ,Blue

Communication: GSM,GPRS

Location: GPS,LBS,WiFi
What's in the box:
1 x W400 GPS Water Resistant Watch
1 x User Manual in English
1 x USB Cable
1 x Screw Driver (to open sim card slot)
* Please make sure the sim card slot lock tightly. We do not recommend to bring this watch to swim or shower, as the water resistance is not permanent, the properties may degraded by daily using.



HOW TO USE:
1.Scan QR code on the packing box and which is always you can find at the button of boxes.

2. Download the APP "Setracker" and Register Account.

3.Scan or enter into the device ID.Each device has only one unique ID, it can be only be used once, and it is the access to connect between watch and phone.

4.Choose language and server location. After you scan the device ID and fill into the account name and password. You got to choose the language and server in you area before you finish it. The language we have now are: English, Türkiye, Português, Espanol, Deutsch. And there are 5 sever around world now, they are Hong Kong, Asia and Oceania, North America, South America, Europe and Africa.



HOW TO SOLVE PROBLEMS:
Q: Why my unique ID will be existed?

The ID number is consistent, some customers do not use their ID number correctly, but use others by mistake, then you might be the one whose unique ID already existed. Please tell us the ID numbers,We will reset the ID on the server.



Q: How to retrieve my account, if I lost the account name and password?

You only need to offer us the ID number, then we can locate your device. After the data being cleared, then you can create another new account.



Q: Why the error range of GSM base station locating up to hundreds of meters?

GPS locating is a way of satellite positioning, so it is quite accurate. But GSM locating is based on base station, its accuracy depends on the signal strength received by the transmitter, where has the better signal, then it location will be provided. So the error range can be big.



Q:Why the watch can't connect to the internet?

1.Please make sure SIM card support "GSM" and installed ok,the GPRS works fine.

2.Make sure you choose the right server,If not,It can't connect to server.Please contact us to modify it.

3.If it still don't works,That's the APN Iissue,Contact us to solve it.

4.Before contact us, Please edit the message commander on your phone and send it to the watch,"pw,123456,ts#", then contact skhong8@gmail.com,we need the message returned to solve the problem.
Customer comments
| Author/Date | Rating | Comment |
| --- | --- | --- |
---