2019 Q50 Kids smart watch GPS tracker GPS Watch
Review of my Q50 watch:) Thanks to alexjong
http://alexjong.com/blog/2018/03/12/review-2018-q50-gps-smart-watch-for-kids-oled-version/
A lot of buyers whatsapp me to compare the price with other seller who selling RM50-70.
What is the difference between our watch and others?
- Our watch is 100% OLED screen; other watch LCD screen.
- Our watch 100% build in GPS antenna; other watch no GPS antenna, they only use LBS to track the watch which is not accurate.
- Our watch 100% with watch taken-off sensor; other seller will remove it to save cost.
- Our watch 100% support local SIM card; other watch can only use in China/no technical support.
- We provide good technical support; other seller no support, you cannot find them. At the end, all buyers looking for my help, but I really cannot help because their watch ID is not belong to us.
- We provide after sales service, watch can be repaired if not critical damaged by water.
So, please don't compare our price with other cheap watch, we are selling at reasonable price with good hardware quality and support.
For easy setup and more understand about this gps watch, I have spent a lot of time writing this "setracker user manual" and "Q&A". Please take your time to read it, this is common questions from buyers, I think you will get your answer here. You can use "ctrl+F" function on your computer to search for a word.
Setracker user manual -- http://www.tabtab.com.my/pages/setracker-user-manual
Q&A for Y3 and Q50 -- http://www.tabtab.com.my/pages/qna-for-q50-and-y3
Don't use fast charging adapter to charge the watch, it cannot support 9V adapter.
Use normal 5V adapter or charge with computer USB port.
Important: Our watches are customized with 12 hours format (only us in the world!!! - skhong/tabtab), other seller selling 24 hours format! Why? Because they don't have technical support team and they don't know who are their programmer who can edit the software!



In Malaysia, your child do not understand 24 hours format, like 16:00, 18:00 or 21:00
We can solve your problem, buy watch from us!
Note: Q50 will only connect to GPS at outdoor (outside the building), it depends on your setting in the app (working mode: map will refresh every 1 minute, 10 minutes, 1 hour)
Q50 dark blue:
Q50 - Black color
Q50 all colors:
Blue, green, pink, dark blue, black
2017 GPS Trackers for Kids Child Older Smart GPS Watch Bracelet Wristband Positioning of Mobile Phone Anti-lost Personal Tracker

This watch tracker is Malaysia version, can use any Malaysia SIM card (postpaid/prepaid)
App and watch menu can be changed from the App (Chinese/English).
Important: Our watch customized with 12 hours format (only us in Malaysia!!! -skhong/tabtab), other seller is 24 hours format!
In Malaysia, your child will not understand 24 hours format, like 16:00, 18:00 or 21:00
Note: This watch is using Micro SIM card
Quick guide:
Note:
1. SIM card must have internet plan (It use less than 30MB/month, but you can use any data plan like 1GB, 3GB or 5GB) - SIM card must be call+data plan.
2. Remove SIM PIN (SIM card PIN number), if any.
Installation:
1. Download and install the APP from Play/App store (setracker) - Android & iPhone.
3. Register account with the watch ID/Reg Code (reg code can be found at the back of the watch)
* IMPORTANT: Before register, please change the area/region to ASIA and Oceania.
4. Login and setting the watch.
5. Done!
For technical support, please whatsapp me, my hp number in the package (please provide your watch imei number to prove your purchase, otherwise we will ignore your message)
### Please DO NOT seek for my assistant if your watch is not bought from me, I cannot do anything if the watch ID is not belong to us.
- We always provide good support to our customer, all our customer are very happy with our service!
Please take note GPS will only auto connect in the outdoors, from your map you will see the connection is SATELLITES and in RED.
So in the building, most of the time it will be tracked by LBS (Location based positioning), this is phone station, and it is not accurate, it can be few KM away.

Difference between LBS base station positioning and GPS positioning:
1. The positioning accuracy of GPS system can reach 10 to 20 meters,
2. mobile phone base station positioning accuracy of 50 meters to 2 KM.
* Please take note, our watch tracker is not water proof/water resistant.
And there is NO water proof/water resistant GPS watch in MALAYSIA.
Good to know:
- Once your kids wearing this watch, they cannot manually power off this watch, you can only shut down this watch by APK remote shutdown. (only when the watch is connected with to your smart phone)
- You will get notification once the kids remove the watch
Excellent advantages
1) GPS +LBS (Base station positioning) dual mode positioning
2) SOS function, two way communication
3) GEO fence
4) Low-battery alarm
5) Real time tracking
6) Tamper alarm
If the watchband is unbuckled after the watch has been on wrist for more than three minutes, the APP client will receive a warning message showing that the watch is taken off. You can disable this function when the product is put aside.
This watch tracker is international version, can use Malaysia SIM card.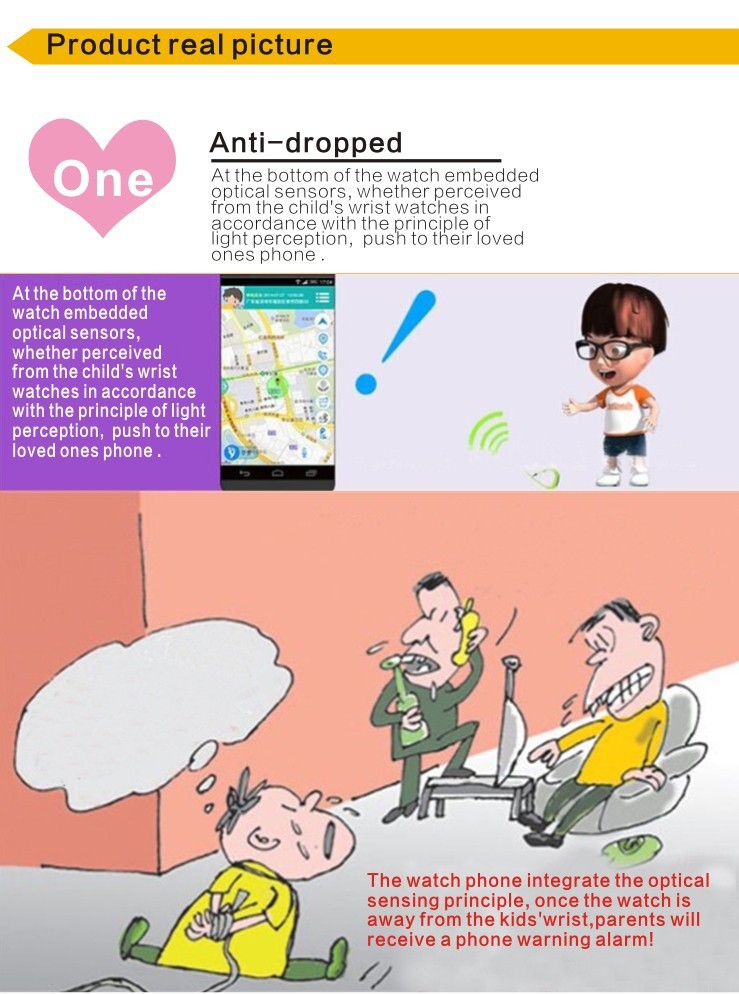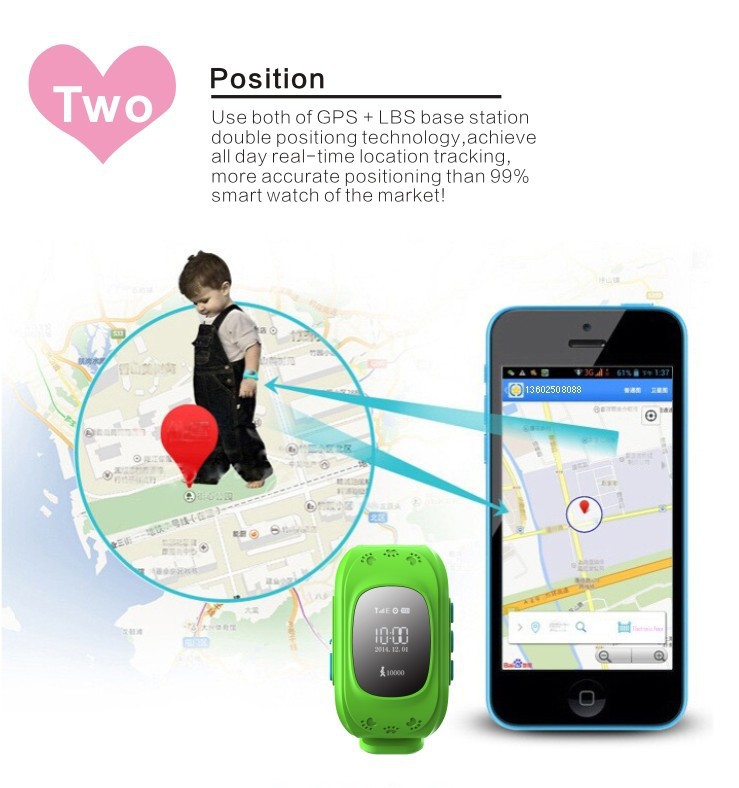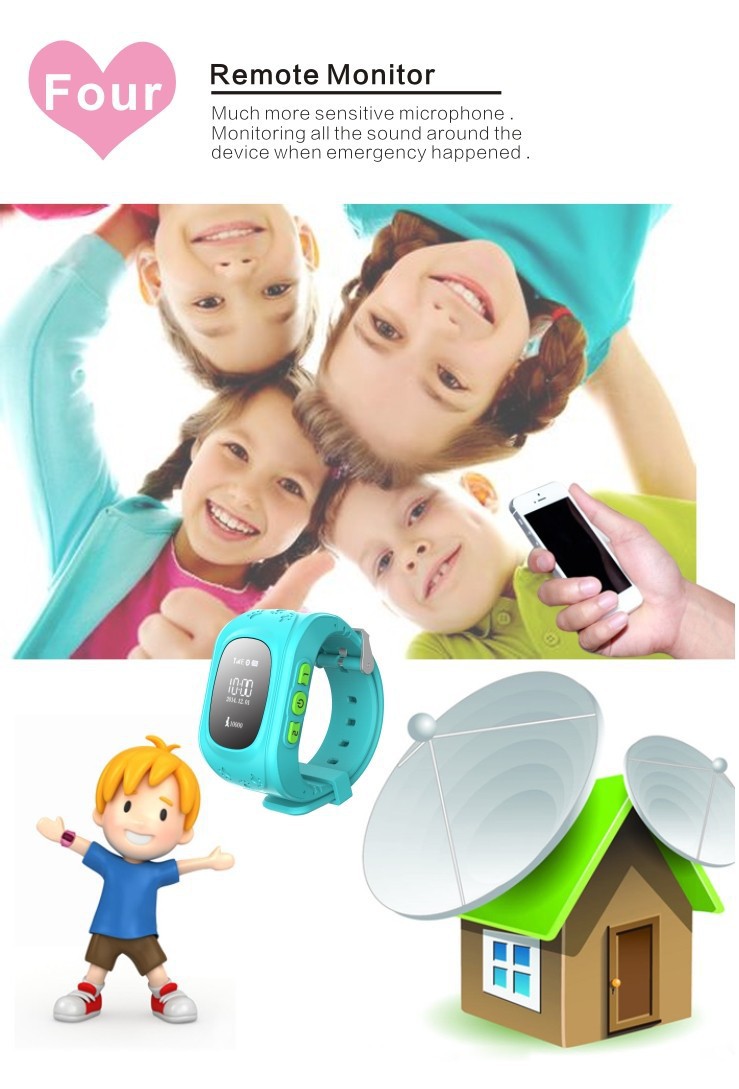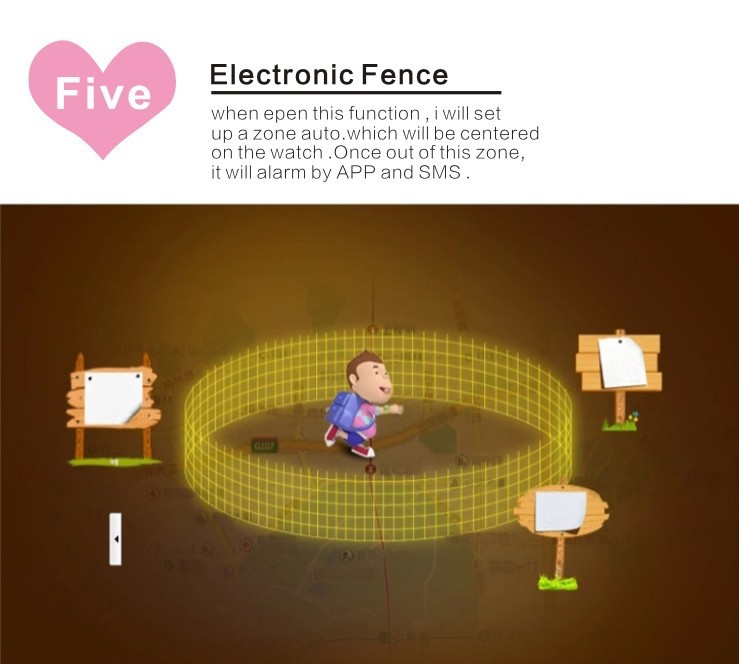 Main Functions and Parameters

1. Support GPS position
2. Support time display
3. Support calling

5. Support SOS help
6. history track record and playback
7. Electronic fence



Product size :31*52*12.5mm
Package Size:45*32*125mm
Battery capacity:3.7v 400mA
GSM band:850MHZ/900MHZ/1800MHZ/1900MHZ
GPRS:Class1 2,TCP/IP Build in GSM MODULE
GSM/GPS:MTK6260/UBLOX7020
Max Speed:515m/s
Charging time: Maximum 3 hours, don't charge overnight.


GPS Precision:10m(2D RM)
Operating temperature:-20 to 70
Speed precision:0.1m/s
Volts:4V
Cold Start
Warm start
Hot start
Standby current
GPS sensitivity -159dBm

weight:150g

Dimensions:45.0(L)*32.0(W)*13.0(H)mm
Net Weight:35.1g
Gross Weight:128g

Packing:
Q50 Kids Smart Watch x 1
USB Cable x 1
Screw driver x 1

Warranty: 3 months local supplier warranty
Q&A: Prepared and created by Mr.Sim (skhong/tabtab), copyright skhong/tabtab
How do I adjust volume for the ringtone?
- When the watch is ringing, press up button on the watch to increase volume (Max. 7), or down button to lower the volume. If you cannot adjust the volume, that mean it is default, you cannot adjust it.
Can I monitor the watch using my second phone?
- Yes, you may install setracker on your second phone, and login using existing username and password. (Please do not try to register second time, as your watch already registered)
Can I swap/change another SIM card? Do I need to register again?
- Just swap/change the SIM card, no setting needed, and no need to register again. Remember to restart the watch after new sim card inserted.
- Note: Your registered account is linked to the watch ID, not the SIM card.
Why my phone doesn't show notification like new voice message received?
- Please check your phone setting to allow notification for the app, it is not the app problem.
Can you suggest the best telco and plan?
- Sorry, I am not an agent, I know nothing about telco plan. It's depends on your budget and network coverage.
Does this smart watch SIM card plan requires voice or just data plan?
- It need both voice + data plan.
- If no voice plan, you cannot call the watch, and monitoring call doesn't work.
- If no data plan, you cannot send voice message (intercom), and cannot track the watch location.
I bought the watch from other seller, can you provide support?
- No, I only provide technical support for my watch. Other seller's watch is different format, and their watch ID is not in our server, I cannot do anything even you willing to pay.
E.g: This customer bought watch from other seller, and ask for my help (skhong)
I have forgotten my login username and password, what shoud I do?
- Please try to click "Forget password?" in the app login page, then input the watch ID, account and phone number registered.
- If the step above cannot solve your problem, please whatsapp your watch IMEI number, I can reset your watch ID, so you can register again. reminder: please do not contact me if watch is not bought from me, you cannot imagine I received many call/messages every day, TQ!)
Why the map show "China map", or device offline?
- It is because your watch is not online, make sure your SIM card has internet data plan (GPRS enabled). It will show your current location (Malaysia) after your watch is online.
The time and date is incorrect even the watch is online?
- It's time server problem and it's temporary only. SMS this code to manually adjust the date and time.
- SMS "pw,123456,time,11.57.00,date,2016.04.30#" (without quote) to the watch phone number.
Note: You may edit the time and date in the code. => 11.57.00 (hour,minute,second), 2016.04.30 (year,month,day),
To check your watch IMEI, ID, and GPRS status
SMS "pw,123456,ts#" (without quote) to your watch phone number, the watch will reply with the info after few seconds.
e.g: SMS > pw,123456,ts# > send to 01x-xxxxxxx (sim card number in the watch)
Can I switch off the watch if the watch is online?
- No, you cannot switch off the watch by pressing the power button when watch is online, this is to prevend your kid switch off the watch accidentally.
- You can remote shutdown the watch in the app (setracker) or manually shutdown.
- To manually switch off the watch. Press SOS button 5 times, then up(1) button 1 time, and down(2) button 1 time.
My watch show "SIM 1 PIN", and I cannot switch off the watch.
- Please take out the SIM card and remove the SIM PIN from your phone (google your phone setting how to remove SIM PIN), it is not my responsible to find the setting for your phone.
- To manually switch off the watch. Press SOS button 5 times, then up(1) button 1 time, and down(2) button 1 time.
- After SIM PIN removed, insert SIM card in watch and switch on the watch again.
Supported country for our kids watch:
/ *********************** Agent Country | Total 88 ************************ /
China, China Taiwan, China, Hong Kong, Macau, China, Britain, Pakistan, Spain
Morocco, Poland, Portugal, Sri Lanka, Ukraine, Turkey, Sweden, Egypt, Gabon
Guadeloupe, Angola, Uzbekistan, New Zealand, Australia, Canada, Vietnam
Norway, Qatar, Kuwait, Iran, Jordan, Bahrain, Saudi Arabia, Chad
United Arab Emirates, Kazakhstan, New Zealand, Malaysia, Guyana, Uganda, Tanzania
Georgia, Ecuador, Venezuela, Chile, Mexico, Colombia, Oman
Bosnia and Herzegovina, France, Lithuania, Namibia, Sudan, Russia
Belarus, Japan, Korea, Ireland, Greece, Switzerland, Austria, Bulgaria
Croatia, Czech Republic, Denmark, Finland, Estonia, Macedonia, Slovenia, Latvia
Moldova, Belgium, Brazil, Uruguay, Argentina, South Africa, Kenya, Zimbabwe
Barbados, the British Virgin Islands, Cayman Islands, Jamaica, St. Kitts and Nevis, Antigua and Barbuda
Thailand, Indonesia, Cambodia, the United States, Mongolia, the Philippines, Iceland, Nepal, Laos, Singapore
/ ********************** agents covered country I 51 countries ********************** /
Malta, the Netherlands, Romania, Vatican City, Kyrgyzstan, Armenia, Georgia, Puerto Rico
Afghanistan, India, Nigeria, Germany, Bangladesh, Congo, Iraq, Duomijiani, Senegal
Israel, Ivory Coast, Liechtenstein, Luxembourg, Madagascar, Mali, Martinique, Mauritius
Maldives, Algeria, Bhutan, Brunei, Bolivia, Rwanda, Yemen, Syria, Sierra Leone
Costa Rica, Dominica, El Salvador, Guatemala, Honduras, Nicaragua, Panama, Paraguay, Peru
Greenland, South Ossetia, Slovakia, Tunisia, Botswana, Cameroon, Central African Republic, Guinea, Cyprus
/ ************************************************* ************************************************************ /
Once again, if you bough the watch from other seller, please don't ask me to solve your problem, I am not able to help, as your watch ID is not in our server.
Customer comments
| Author/Date | Rating | Comment |
| --- | --- | --- |
---