Q&A for Q50 W400X
Please bear in mind:
All gps watch will auto switch between LBS, WIFI, GPS depends on the situation below:
(not accurate) LBS (telco station) - when in the building with no wifi available (wifi available for W400X model only). Q50 will always connect to LBS in the building - Accuracy 500 meters - 2km
(more accurate than LBS) WIFI - more than 2 wifi available around the watch (for W400X model only) - Accuracy 10 meter - 500 meters depends server location
(most accurate) GPS - only available under clear view of sky and outside the building / in a single storey house. - Accuracy 5 - 20 meters (for Q50 and W400X)
Q50 - GPS and LBS positioning only
W400X - GPS, LBS, WiFi positioning
All Q&A are written by me, skhong/tabtab.
Recently, many buyers cannot login their setracker account due to "Account Error" after reinstalling the app, restart phone, format phone, etc...
This is due to your area being incorrect, please change it to "ASIA AND OCEANIA", it will solve your problem.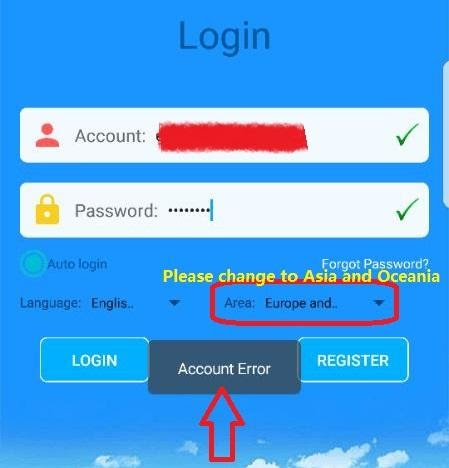 How to set silent (school time/class time) for the watch?
- In settings - "do not disturb", please set the time (applicable from Monday to Friday only), and enable it.
At least start with 00:01, and end with 23:59. DO NOT set 00:00 to 00:00, it will not activate.
- During the "do not disturb" time, the watch will reject all calls, the watch will not ring.
- It is still able to receive voice/text messages, silently, but the watch is able to listen to the message.
1. How to make a call from the watch?
- Press up (Y3) or down (Q50) button to access phonebook, then press up and down to select which contact you want to call, then press long (mean press and hold the button for 3-5 seconds) to make call (up [Y3] or down [Q50]).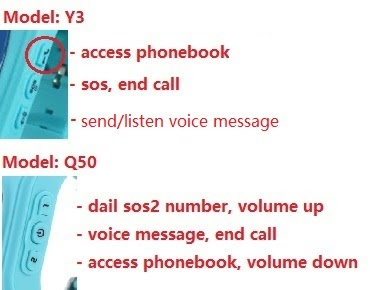 2. What is "monitoring" in the setracker? Can I change the watch phone number permanently?
-Monitoring calls has been blocked (as requested by European Union), as spy calls are illegal worldwide.
3. How to send voice messages from the watch to the phone?
- For Q50, press and hold the power button for 3-5 second to start recording, and release the button to send.
- For Y3, press the microphone icon button for 3-5 second to start recording, and release the button to send.
4. How to save a phonebook to the watch?
- You must insert a sim card with data plan to the watch, then you can add a phone number in the app (setracker) from your handphone, in app settings - phonebook.
P/s: Please remove +6 in front of your phone number, this is a common problem which users will input +60123456789. Please direct input 0123456789.
5. What is the difference between a phonebook and contact in the setracker?

6. Why does the watch display off after a few seconds? Can I let it on all the time?
No, cannot turn on the display all the time, it is to save battery. This is not a normal watch, as it uses a SIM card, and the network signal will consume a lot of battery, just like your handphone cannot turn on the display all day long.
7. How do I adjust volume for the ringtone?
- Yes for Q50, and No for Y3.
- When the watch is ringing, press the up button on the watch to increase volume (Max. 7), or down button to lower the volume. And the same for call volume.
8. Can I monitor the watch using my second phone?
- Yes, you may install setracker on your second phone (unlimited phone), and login setracker using existing username and password. (Please do not try to register second time, as your watch already registered)
9. Can I retrieve the same message on the watch after reading or hearing it?
- No, you cannot. The message will display once only until you press any button on the watch to close it.
11. Can I swap/change another SIM card? Do I need to register again?
- Just swap/change the SIM card, no setting needed, and no need to register again. Remember to restart the watch after the new sim card is inserted.
- Note: Your registered account is linked to the watch ID, not the SIM card.
12. Why doesn't my phone show notifications like new voice messages received?
- This is not the app problem. Please check your phone setting to allow notification for the app. If you already allowed notification, but still cannot receive, advise you DO NOT exit/close the app. Press home button to return to your android home screen and let the setracker run in the background.
13. Can you suggest the best telco and plan?
- Choose the best coverage network. (personally I think digi is worse, other OK)
- It need call + data plan
- Can use both prepaid and postpaid, no matter, as long as it is a call + data plan.
14. Does this watch SIM card plan require a voice or just data plan?
- It needs both voice + data plan.
- If there is no voice plan, you cannot call the watch, and monitoring calls doesn't work.
- If there is no data plan, you cannot send voice messages (intercom), and cannot track the watch location.
15. I bought the watch from another seller, can you provide support?
- No!!! I only provide technical support for the watch bought from me. Other seller's watches are in different formats, and their watch ID is not on our server (not belonging to us), I cannot do anything even if you are willing to pay.
E.g: This customer bought watch from other seller, and ask for my help (skhong/tabtab)